Dear readers, we would like to recommend the latest issue of the Journal of Adult Education.
In this issue, the following articles are available:
Mirjana Mavrak Andragogical Essay in Time of Pandemia: Alternations and Alternatives in Adult Education
Katarina Popović Destructive March of Lifelong Learning
Tihomir Žiljak Goals of European Adult Education Policies at Time of COVID-19 Pandemic
Dženeta Camović, Amina Đipa Establishing Creativity as Key Skill for 21st Century – Role of Higher Education in Encouraging Students' Creative Potential

Book Review
Amir Pušina Andragogical Reception of Literary Work (by Mirjana Mavrak)
Amina Smajović Cultivating Creativity as Basis for Sustainable Education of Future
The acceptance of papers for number XXII/2022 is open until November 1, 2022.
More information at: https://ccu.bkc.ba/en/pozivno-pismo-casopis-obrazovanje-odraslih/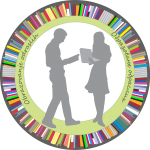 Journal Obrazovanje odraslih / Adult Education publishes original scientific and professional papers in the field of adult education and learning.
The Journal also publishes releases, reviews, documents and information on the practice and policy on adult education in Bosnia and Herzegovina and the region, reports and reviews, current articles from foreign journals, as well as information on significant events from the country, region, Europe and the world related to adult education and learning.
The Journal Obrazovanje odraslih / Adult Education is indexed in the EBSCO database.
It is available at C.E.E.O.L. (Central and Eastern European Online Library).
DOI: 10.53617/isnn.2744-2047
ISSN: 1512-8784 (Print)
ISSN: 2744-2047 (Online)
Openness
The journal supports open access policy and open science.

Meaning
This license permits others to download your work and share it with others, provided they list you as the author, but may not modify or use it for commercial purposes.
Latest issue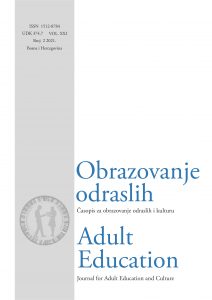 Download latest issue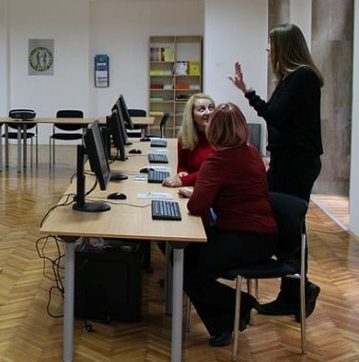 Public Institution "Bosnian Cultural Center of Sarajevo Canton" has established the Center for Lifelong Learning (CLLL) with the financial and advisory support of the partner organization DVV International – Office for Bosnia and Herzegovina. Establishment of the Center for Lifelong Learning resulted from the need to place adult education into the legal framework, which entails the entry of the Center for Lifelong Learning into the Register of Adult Education Provider in Canton Sarajevo (CS), which would be in accordance with the Law on Adult Education of CS.
Lifelong learning is the best tool to replace the concept of lifelong workplace with the concept of lifelong knowledge, skills and competences. The change of concept is conditional onconstant increase of new knowledge and rapid obsolescence of existing knowledge, but also on the need to adapt existing non-specific knowledge, skills and competences to the requirements of changing workplaces. Lifelong learning becomes much more than an economic issue, since a higher level of education and continuous learning, accessible to all, is an essential prerequisite for reducing inequality and preventing the marginalization of an individual or group.
Objectives:
To enable citizens to be more competitive on the labor market through provision of various longer and shorter educational programs
To strengthen social inclusion of citizens
To develop individual potential of each participant
To reduce the marginalization of vulnerable groups of the society (unemployed persons, elderly, people with disabilities and the disabled, women, young people, etc.), and to improve their economic situation.